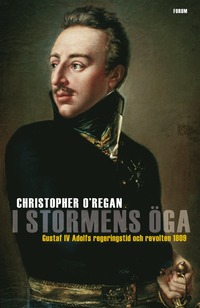 On 13 March, the 200th anniversary of the deposal of King Gustaf IV Adolf of Sweden in a palace coup, Fischer & Co published a biography of the unfortunate monarch. The book is written by Mats Wickman and titled
En kunglig tragedi – En biografi om Gustav IV Adolf
.
This is the first proper biography of Gustaf IV Adolf since Professor Sten Carlsson's
Gustaf IV Adolf – En biografi
was published in 1946. While the nickname "Galenpannan" ("The Madman") gives a good lead to how writers of the 19th century tended to portray Gustaf IV Adolf, Carlsson was the first to give a more balanced portrayal of him. Mats Wickman follows closely in Professor Carlsson's steps.
http://www.fischer-co.se/1100/1100.asp?id=3449
On Wednesday this week Bokförlaget Forum will release another book on Gustaf IV Adolf,
I stormens öga - Gustaf IV Adolfs regeringstid och revolten 1809
by Christopher O'Regan, a prolific writer on the Gustavian era. The book will be a sequel to O'Regan's earlier
Ett märkvärdigt barn – Gustaf III:s son
(2007), which dealt with the early years of Gustaf IV Adolf.
http://www.forum.se/Bocker/Bokpresentationssida/?Isbn=9789137133539