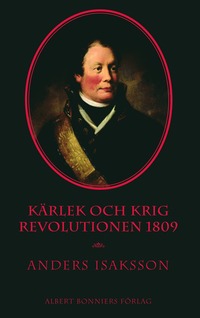 This year marks the 200th anniversary of the momentous events of the Swedish revolution of 1809, when Sweden lost Finland to Russia, King Gustaf IV Adolf was deposed and succeeded by his uncle Carl XIII, and Sweden got the constitution which remained in force until 1975. The bicentenary has led to two new books on the events of 1809.
The journalist and author Börje Isakson was first out with his
Två dygn som förändrade Sverige – 1809 års revolution
, published in January by Natur och Kultur. The book is an easy read and deals chronologically with the events from the outbreak of the war with Russia in 1808 to the election of Marshal Bernadotte as Crown Prince of Sweden in August 1810.
http://www.nok.se/nok/allmanlitteratur/titlar-allmanlitt/t/Tva-dygn-som-forandrade-Sverige-ISBN-9789127117600/

Another journalist, Anders Isaksson, best known for his four-volume biography of Sweden's wartime Prime Minister Per Albin Hansson, chose another approach in his book on the revolution,
Kärlek och krig – Revolutionen 1809
, published by Albert Bonniers Förlag earlier this month. Isaksson's book is less chronological and focuses on one of the leading figures of the revolution, namely Georg Adlersparre, who led the Western Army in its insurrection and its march on Stockholm and found the love of his life on the way. Sadly Anders Isaksson died from a sudden heart attack shortly before the book was published.
http://www.albertbonniersforlag.se/Bocker-auto/Bokpresentationssida/?Isbn=9789100119027